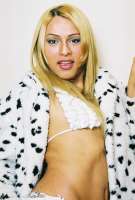 Name: Danyele
Age: 27
Personal: Pre-Op Transexual
Height: 5′ 10″
Weight: 145
Location: Dallas, Texas
Occupation: Administrative
Hobbies: Computers, dogs, softball, modeling
Likes: Nice people who just keep it real
Dislikes: Stuck up and pretentious people
I'm excited about the opportunity to represent Meet-Transexuals.com. I guess I was chosen because I'm transexual. Perfect choice! I do a lot of writing in my job so this is up my alley.
I live as a stealth transexual, meaning most people in Dallas don't know I'm anything other than a woman. It's a nice feeling to realize that people don't know I'm transexual and making all sorts of judgments based on that knowledge. Now people pretty much just treat me as me, for good or bad — and that's good!
I think I live a pretty interesting life. I never get bored because there's so much to do in a typical day. I work my administrative job working with a law firm that specializes in criminal issues. It's challenging and rewarding. I enjoy helping people work through the worst parts of their lives so they can get to better times. That's how I prefer to look at it anyway.
I also get out with friends fairly often to go out to the nightclubs. I also enjoy a quiet day working on the computer, reading or taking my dogs out to the dog park. I love Dallas the variety of activities that are available. There are also a fair number of resources available for the transexual community here.  I grew up and lived in a small town before moving to Dallas so this is quite refreshing.
I love a good beer and I'm looking into home brewing as soon as I can find a little free time. … and by beer I don't mean the swill that most of the people drink. You'll never catch me guzzling PBR or something like that. I prefer the microbrewery beers. I'm developing sophisticated taste dahlings! Please don't hold it against me because I'm pretty down-to-earth, really.
I'm flirty, can be a bit nerdy but more than a little kinky too. It's all so complicated, but oh so fun to be me. I'm open-minded and will try anything once. Maybe twice. 😉
If you made it this far, thank you for reading my little bio. I hope you enjoy the site.
Kisses!
---
PRIVACY POLICY: We take your privacy seriously. Meet-Transexuals.com does not place cookies on your computer or collect any personally identifiable information. This is a free site. We are an authorized affiliate of some sites that may appear on this site, however, you are never under obligation to make any purchase to access all the content on this site. Please contact us if you have any questions regarding this privacy policy.
---